Francesca Simon spent her childhood on the beach in California, and started writing stories from the age of eight. She then went to Yale and Oxford Universities to study medieval history and literature. She threw away a lucrative career as a medievalist and worked as a freelance journalist, writing for the Sunday Times, Guardian, Mail on Sunday, Telegraph, and Vogue (US).
It was reading so many stories to her son Joshua, that encouraged her to start writing children's books and many of Francesca's stories have been inspired by real life situations. One of Francesca's most successful and irrepressible creations has been the famous (or should that be infamous) Horrid Henry, who first appeared in 1994.
Horrid Henry has gone on to conquer the globe and his adventures are published in 27 languages, and have sold millions of copies worldwide. In 2008, Horrid Henry and the Abominable Snowman won the Children's Book of the Year Award at the Galaxy British Book Awards.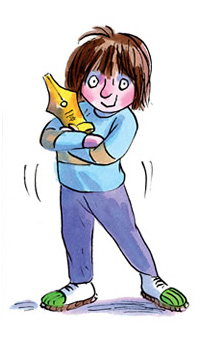 Francesca is one of the nation's most popular authors and has written over fifty books for children of all ages. When she is not writing, Francesca is often encouraging and inspiring young writers and has judged many writing competitions for schools. She has also been a judge for the Guardian Children's Fiction Prize and the Roald Dahl Funny Prize. In 2009, in one of the proudest moments of her career, Francesca was awarded a Gold Blue Peter badge.
Francesca is also a passionate ambassador for children's literacy and access to literature. She is a trustee of the World Book Day charity, and has been actively involved with many other literacy charities and initiatives including Beanstalk, The Reading Agency, Booktrust's Children's Reading Fund and Storybook Dads.
Francesca lives in North London with her family.
You can also read Francesca's FAQs and check out the Press Room for lots of articles and interviews with Francesca. And you can watch lots of videos with Francesca on her Youtube channel.