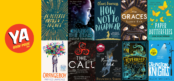 Francesca's novel The Monstrous Child is shortlisted for the YA Book Prize which is absolutely fantastic news.
Each week a different shortlisted story is being championed on twitter. Why not get involved and support The Monstrous Child from 8-9pm on Tuesday 9th May by joining #TeamSimon and using the hashtag #YA10. Follow @yabookprize on twitter for more information or visit the prize website here 
The winner will be announced at Hay Festival.