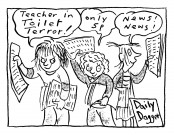 If you would like to request a review copy of a title or have an enquiry regarding publicity, please contact the Hachette Children's Publicity Team.
For enquiries relating to The Sleeping Army, The Lost Gods and The Monstrous Child, please contact Faber Books.
Interviews and Media Coverage
Books for Keeps magazine
A review of Francesca and Charlotte Cotterill's picture book Hack and Whack
The story is rhyming and repetitive and invites young readers to join in: We're Hack and Whack on the attack!There is lots of spot in the detailed illustrations and plenty of humour; children will love the scene when our young mischief makers tip over a Viking WC – complete with occupant. The detailed end papers give a great sense of life in a Viking village, the arrows at the back of the book tell the story of Hack and Whack's chaotic bedtime escapade.Two new irrepressible and irresistible anarchic characters from Francesca Simon creator of the highly popular Horrid Henry series.
Read the full review here
Books for Keeps, December 2017
The Bulletin of the Centre for Children's Books
Starred and Recommended Review from a highly respected US magazine for librarians.
Be patient and quiet, and Hel will tell you herself how she landed in the underworld as Queen of the Dead. She'll describe her heartbreaking childhood with her horrible brothers, Fenrir and Jormungand, wolf and snake, and the occasional visits from her father, Loki. She'll let you in on her first love, her deepest secret hopes for herself that she covers with a sardonic veneer, and how she slowly moves to acceptance of herself, decaying legs, lonely heart, and all. This clever novel, first published in the UK, wastes no time diving into Hel's story and as it's all told in her own angry, jaded voice, there's not a moment where we aren't engaging with this peppery offspring of a giantess and a god. The descriptions of the underworld that she creates, full of spirits that nearly all believe they don't deserve to be there, are brilliant, with shadows, coldness, fire, and desolation matching that which can be seen within Hel, all without ever seeming trite or overstated. This is at once a mythic, epic tale of gods and giants and sweeping, gory other worlds, while also being a pathos-laden narration of a deeply dysfunctional family and the damage to its members. Both layers of this story are compelling and memorable, and Hel herself, all razor edges and oozing vulnerability, is unforgettable. This is a rare and unusual gem for Norse fans who don't generally see much of Hel.
The Bulletin of the Centre for Children's Books March 2017, USA 
The Guardian
Francesca explains why she's chosen to write a book for World Book Day alongside David Walliams, David Almond and Jacqueline Wilson here
The Guardian, 1st March 2017
The Bookseller – Foyles
The Monstrous Child is shortlisted for the YA Book Prize. Read more on The Bookseller website and Foyles blog
2nd March 2017
Books for Keeps
Francesca was interviewed for Books for Keeps when The Monstrous Child was shortlisted for the Costa Children's Book Award. You can read the full interview with Anna James here.
Books for Keeps, December 2016
The Daily Mail
The Monstrous Child has been reviewed in the Daily Mail's Best Books of the Year feature. 'Sparky prose and dark humour mix in an epic fantasy tale.' Read the full review here.
The Daily Mail, 8th December 2016
The Today Programme
Francesca joined a debate on BBC Radio 4's Today Programme defending the Young Adult genre of literature, following an article in the Times Education Supplement. To listen to the piece click here and move to 02:18
The Today Programme, 23rd August 2016
Review in the Guardian
The Monstrous Child is reviewed by Kitty Empire in the Guardian in their Fiction for Older Children Reviews feature. The Monstrous Child 'follows on from Simon's assured recent books The Sleeping Army and The Lost Gods. This new book is a first-person tale of how this daughter of a female giant and a God – beautiful on top, decaying from the waist down – came to be mired in the land of the dead. It's a fizzing, gory read, especially if you've enjoyed the previous two.' To read more click here.
The Guardian, 1st August 2016
Feature on Characters in Children's Books
Francesca contributed to a fascinating piece in The Guardian on whether authors of children's books should allow the characters in their stories to grow up. To find out if Francesca would ever write about an older Horrid Henry, and to see what other writers such as Cressida Cowell, Charlie Higson, Anthony Horowitz and others think read the full feature here.
The Guardian Review, 23rd July 2016
Review in The New Statesman
Monstrous Child was reviewed by Amanda Craig in the New Statesman's 'Detecting Dogs and Norse Gods: Best new children's books for summer' feature.
'A searing work of black comedy about the Norse goddess of the underworld, Hel… Any unhappy teenager aged 13 and above will root for this scathing yet sympathetic heroine, whose unexpected ­redemption is in keeping with myth and what we wish for her.' Read the full feature here
New Statesman, 17 July 2016
Gransnet Feature
Monstrous Child was Book of the Month on the Gransnet website in June. Read Francesca's answers to Gransnet users' questions here
Gransnet, June 2016
Review of Horrid Henry's Sizzling Summer in The Times Summer Children's Books round up
'There is little like Horrid Henry to get young boys, especially, off the reading blocks. Here is a collection of old stories, published this month, about Henry and Perfect Peter's summer antics. Have a Horrid holiday!' Review by Alex O'Connell.
The Times, 2nd July 2016
Review in The Best New Children's Books – Produced by the Publishers Association
'Hel is the daughter of a giant and a goddess, sister of a snake and a wolf, part human body, part rotting corpse. She is the Norse Queen of the Dead and this is her story. It is told with black humour and sarcasm. It is revolting, fascinating and funny. It is a thoroughly modern myth.'
Review by Nicola Lee of the Children's Bookshop in Lindley, Huddersfield
19th June 2016
Francesca Simon: I'm drawn to characters who don't care
Francesca interviewed in the Jewish Chronicle by Sarah Ebner. Read the piece here
Jewish Chronicle, 1st June 2016
Francesca Simon: I'm a mixture of both Horrid Henry and Perfect Peter
Francesca interviewed in the Telegraph by India Sturgis. Read the piece here
Daily Telegraph, 28th May 2016
Francesca meets winner of short story writing competition at Book East Festival
When Francesca took part in the Book East Festival she also presented short story writing competition winner Lucy Cant with her prize. Read more here
Haverill Echo, 26th May 2016
500 Words: Chris Evans announces winners
Francesca and her fellow judges took part in the award ceremony for the BBC's 500 Words Competition at The Globe. They were joined by The Duchess of Cornwall and Waterstones Children's Laureate Chris Riddell. Francesca Simon added that the story e-courtroom was "brilliantly original". Read more here.
BBC Online, 27th May 2016
Francesca Simon: I love writing in the first person
Horrid Henry author Francesca Simon revels in the exhilaration of seeing the world exclusively from someone else's point of view – as she introduces The Monstrous Child in the Guardian
Read Francesca's piece in the Guardian here
The Guardian, 25th May 2016
5 star review in Books for Keeps
'Remarkable first young adult novel… The power of the novel is in its compelling evocation of the cruel and grotesque world of the Norse imagination seen through the eyes of a sly and revenging god who remains a deeply wounded child. A stunning debut for an older audience.' Read the full review here
May, 2016
Review in the Spectator
Read the full review here
May, 2016
Francesca was Rob Cowan's Guest on BBC Radio 3's 'Essential Classics' in early May
Listen to a podcast of the five episodes here
The Monstrous Child selected as The Times' children's book of the week
Alex O'Connell, 'I admired Hel's spirit and Simon's writing of her… how monstrously good that Simon has brought to the mainstream a myth confined to university basements and the bookshop in Reykjavik airport.'
The Times, 30th April 2016
Everyone's a combination of Horrid Henry and Perfect Peter
Francesca talks about Horrid Henry and introduces Hel, the heroine of The Monstrous Child. Read More
Ham and High, 26th April 2016
Ipswich Unveils Book East Literary Festival
Read an interview with Francesca Simon and Steven Butler ahead of their event together at the festival here
East Anglian Daily Times, 8th March 2016
Francesca Simon 4th most borrowed author in 2014/15
The latest Public Lending Right (PLR figures) show that Francesca Simon is the UK's 4th most borrowed author in 2014/15. Read more
The Bookseller, February 2016
Library Lending Figures: which books were the most popular? Francesca Simon one of four authors to register more than 1 million library loans. Read more
The Guardian, February 2016
Simon and Blackman to judge 500 Words competition
Authors Francesca Simon, Malorie Blackman, Charlie Higson and Frank Cottrell Boyce are among the judges of this year's 500 Words children's short story writing competition. Read More
The Bookseller, January 2015
How real Viking objects inspired Francesca Simon's new series – in pictures
Horrid Henry author Francesca Simon's novels The Sleeping Army and The Lost Gods were inspired by artefacts that can be seen in the British Museum's Viking exhibition: "It was very exciting to see the real versions of artefacts like Thor's pendant, Freyja's golden necklace and a grave ship, that I had only seen in pictures before". Here Francesca shares some of the incredible objects and describes how she has brought them to life in her Norse adventure books. Read more
Guardian, May 28th 2014
Horrid Henry author Francesca Simon: I want to get to 100 Horrid Henry books!
Horrid Henry turns 20 this year. Read more
Parentdish, 2014
My space: Francesca Simon, Children's Author
'Horrid Henry' author Francesca Simon shows us her kitchen-cum-study in north London. Read more
Telegraph, May 27th 2014
The Lost Gods, review – a mythical romp from the Horrid Henry author
Francesca Simon offers readers of all ages a brilliant, thought-provoking collision of ancient Norse myth with contemporary celebrity culture. Read more
Guardian, March 22nd 2014
The bad boys of books: A force for good or a bad influence?
East Anglian Daily Times, March 8th 2014
Horrid Henry creator Francesca Simon brings myths and magic to Young City Reads with her new book The Sleeping Army
The Argus, February 28th 2014
Small Talk: Francesca Simon
What is the best piece of advice a parent gave me? My dad told me never to put off celebrating. Read More
Financial Times, October 25th 2013

One Minute With…
One minute interview with Francesca Simon, children's author. Read More
The Independent, October 21st 2013

Top Writer Francesca Simon takes reading to new heights
Horrid Henry author shares new book at the Shard's summit. Read More
London Evening Standard, October 2nd 2013
Ten tips to make bedtime reading fun
Horrid Henry author Francesca Simon says there's no greater pleasure than 20 minutes a day spent reading to your child. Read more
Guardian, September 17th 2013
The Guardian: Francesca Simon
The Horrid Henry author talks to Robert McCrum about a golden age of children's literature and why she wrote Horrid Henry for herself and not for her son. Read More
The Guardian, September 13th 2013
The Inventory: Francesca Simon
Bestselling children's author Francesca Simon, 58, is the creator of Horrid Henry, whose adventures are published in 24 countries. Read More
FT Magazine, August 16th 2013
Francesca Simon's Travelling Life
The author of the Horrid Henry series recalls relaxing holidays in Greece, snorkelling in Hawaii and her absolute love for France. Read More
Telegraph, August 12th 2013
I wanted Horrid Henry to be like Cain and Abel
The creation of a menacing character with no redeeming features – children love him, parents not so much – has brought her success everywhere except in her native US. Paul Bignell meets Francesca Simon. Read More
The Independent, August 2011
How We Met: Steven Butler & Francesca Simon
A bestselling children's author, Simon is known for her hugely popular 'Horrid Henry' series, which has spawned its own animated TV show and West End theatre production. She lives in London with her husband.
Read More
The Independent, April 2011
What makes Henry so horrid?
Her bestselling warts-and-all-tales of a mischievous boy vex some adults, but children's author, Francesca Simon, tells Dinah Hall that Horrid Henry was inspired by a desire to give young readers a safe outlet for 'emotions that are uncomfortable'. Read More
The Telegraph, April 2010
Francesca Simon's top 10 antiheroes
From Just William to Scarlett O'Hara, Tom Ripley to Molesworth, the author of the Horrid Henry books picks out her favourite suspects in a line-up of classic bad behaviour. Read More
The Guardian, October 2009
Simon says Horrid Henry is the naughty little boy in all of us
Horrid Henry creator Francesca Simon tells Gavin Allen why her naughty little boy is so loveable. Read More
walesonline.co.uk, July 2009
Francesca's favourite recipe
Continuing our week-long recipe series, Horrid Henry author Francesca Simon shares her favourite staple dish. It's quick, delicious and the only recipe in her repertoire that she didn't find in a book. Read More
The Guardian, March 2009
My Family Values
The Guardian, November 2008
Writers' rooms: Francesca Simon
I've lived in my Victorian terrace house for 18 years, and for 16 of them my office was a tiny, cramped garret filled with cast-off desks, collapsing bookshelves, wonky chairs and grisly lighting. Read More
The Guardian, November 2008
Henry is horrid so they don't have to be
Francesca Simon tells Helen Brown why her 10-million selling tales of naughtiness are like crime fiction for under-eights. Read More
The Telegraph, March 2008
Naughty children in books
IF YOU ARE HAVING a bad child day – and most of us do from time to time – the idea of an exhibition devoted to Naughty Children at the Seven Stories Centre, New-castle upon Tyne, might seem the last straw. Read More
The Times, January 2008
How we met – Miranda Richardson and Francesca Simon
It was 1984 and I was very inexperienced in the world of interviews. My sum total up to that point had been the publicity for Dance With a Stranger, but already I'd decided it wasn't my favourite thing in the world. When they said a journalist from Vogue was coming, my heart sank. Read More
Independent on Sunday, February 2005
They love what Simon says
'You don't necessarily choose the kind of books you write well. It can surprise you,' says Francesca Simon. 'I never, ever imagined I would end up as a children's author.' Read More
The Observer, October 2005
Even his teddy bear avoids him
He's young, he's extremely naughty and his books sell almost as fast as Harry Potter's. What makes Horrid Henry so fascinating for children? Dina Rabinovitch talks to his creator, Francesca Simon Read More
The Guardian, December 2005
Francesca Simon Interview
Joy Sable meets the best-selling children's author Francesca Simon, creator of the naughtiest child in the playground, Horrid Henry, and talks of film star Lana Turner, learning Chinese, and the dreaded nits… Read More
The Jewish Chronicle, August 2003
Hooray for Henry
Forget goody two-shoes Harry Potter – it's a wicked, spiteful boy who's really firing kids' imaginations. Dina Rabinovitch spoke to his creator, Francesca Simon. Read More
The Guardian, September 2001