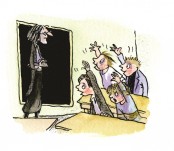 I like to write funny stories because I believe that children can learn more readily and faster when they are enjoying themselves. I hope that my books can help make reading fun, so on this page are some free resources for teachers to download.
If you are a school teacher with letters to send to me from your class, you can send them to me electronically, via the form below.
Please note that, unfortunately I no longer undertake school events.
Free Downloadable Resources
Check out my Youtube channel as well for some great videos!
Submission Form
Instead of sending your letters to Francesca through the post, why not scan them and send them to her electronically? You can upload your image via this form. As we can only accept one image per message, why not choose the best one, or perhaps encourage everyone to contribute to a collage?